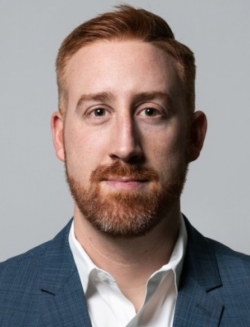 Zachary George
Zac George is the International Market Development Manager for CRFS Ltd. He is a former joint Electronic Warfare officer with experience at US Special Operations Command Europe and the US European Command in Stuttgart, Germany. He has served as a deck officer onboard 2 US Navy Ticonderoga Class Cruisers and was the Operations Officer onboard USNS YUMA (a high-speed catamaran) with deployments in the Black and Mediterranean Seas, Persian Gulf, Atlantic, Indian and Pacific Oceans. He continues his part-time service as US Naval Reserve Lieutenant Commander in Naples, Italy and lives in Zürich, Switzerland.
---
Presentation
The sea is awash with spectrum: USVs and spectrum management
The use of Unmanned Surface Vessels (USV) is becoming more widespread, and the removal of humans onboard brings many productivity and tactical advantages. However, USVs are now fully dependent on critical communications pathways for command and control (C2) using the electromagnetic spectrum. In this presentation, we observe how USVs use the spectrum for communication and spectrum awareness, the electromagnetic threats they face, and how these threats can be mitigated. The presentation will focus on CRFS's AIS and GPS spoofing detection capability, jamming/interference geolocation, and spectrum management best practices using real world and simulated examples.