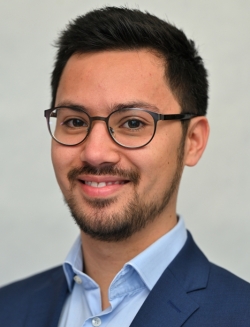 Jason Halog
Jason Halog studied law in Germany with a focus on international law. After his graduation in 2021, he started his PhD thesis in the field of international law of the sea. He examines legal challenges of the law of the sea regarding autonomous ships. Additionally, he works as researcher at the German Aerospace Center in Bremerhaven. In this capacity, he is part of an interdisciplinary team also working on different projects regarding autonomous maritime systems.
---
Presentation
Interdisciplinary study on the compliance of autonomous ships with COLREGs
This presentation aims at conveying a transdisciplinary overview of autonomous shipping through the scope of the International Regulations for Preventing Collisions at Sea (COLREGs). In this framework, the intersection of legal and technical specifications shall be investigated, to determine what the law says on autonomous shipping and what the technic facilitates in this regard. Accordingly, current regulatory developments as well as technical novelties will be considered. These issues take place in the broader perspective of the ever-recurring advance technological advancement enjoys over the legal development, which may result in core incompatibilities of the latter with the former.